Leading Single Screw Extruder Machine for Plastic Processing
Enhancing Productivity and Quality with Precision Single Screw Extrusion Equipment for Pipes, Bands, and Profiles. Customized Turnkey Project!
welcome to Jinxin Plastic Machinery
Our factory produces top-of-the-line single screw extruder machine that is designed specifically for the production of plastic pipes, tapes, and profiles. 
Your Ideal Production Equipment
we provide the most suitable configuration single screw extruder.
With years of industry expertise and experience, we've curated a selection of single-screw extrusion equipment options that stand out in the market. These choices are well-established, ensuring both product quality and equipment stability. We don't offer everything because, in reality, investing in non-competitive solutions can waste your resources and capital.
Our commitment to excellence and dedication to providing top-quality products have made us a trusted name in the industry. Explore our range of plastic extrusion lines and elevate your production with the utmost precision and reliability.
For the production of pipes using PP-R and PE as raw materials. The other is for small-diameter pipes made of PC, PA, ABS and TPU. Equipped with a material-saving system, Precise extrusion and reduces material waste.
Our production machines are capable of manufacturing single-lumen flexible tubes made of PVC and TPU, as well as dip tubes made of PE for use in pump bottles or cosmetic packaging.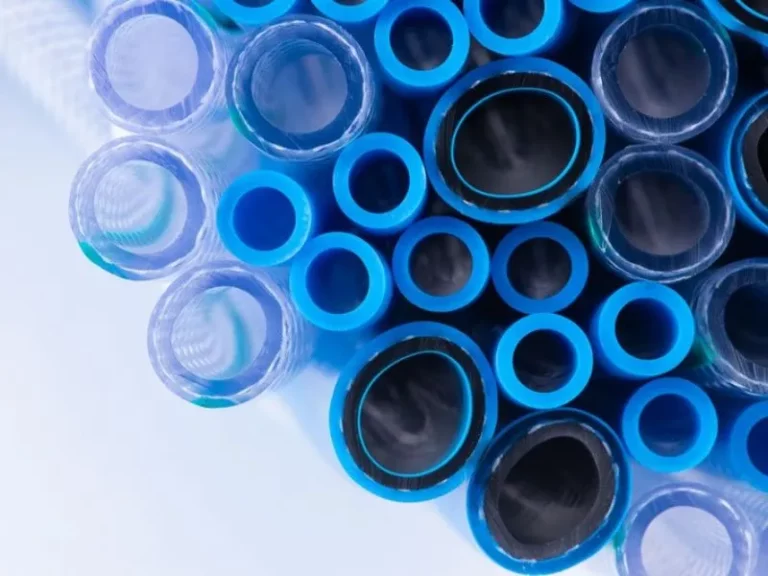 Double-layer fiber-reinforced hoses, triple-layer silver powder fiber-reinforced hoses, and steel wire-reinforced hoses. The uniformity and flatness of the kniteing is what allows the product to meet high requirements.
Our extrusion equipment is capable of producing LED lighting profiles using PC and PMMA as raw materials. With a variety of shapes, color tones, and surface treatments. Our equipment can produce light tubes, lampshades, diffusers, etc.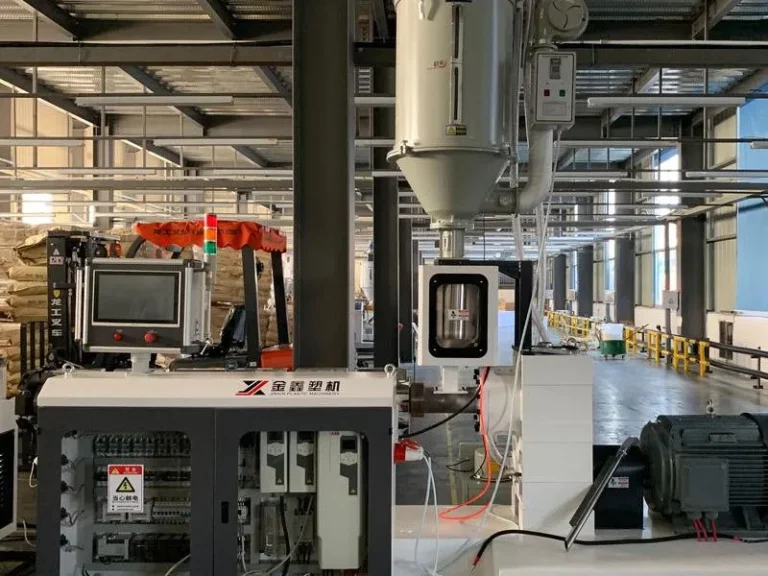 The equipment is used for extruding TPE materials to produce medical bandages such as tourniquets and esmark bandages, as well as elastic bands for sports or rehabilitation such as yoga bands. The complete set of equipment is self-developed and can recommend TPE materials to customers.
Our expertise extends beyond extrusion production; we specialize in crafting tailored solutions for non-standard automated production equipment.
about JINXIN Plastic Machinery
We have been specializing in single screw extruders for over 10 years.
Jinxin Plastic Machinery is a china extruder machine manufacturer was founded in 2012. Our core business is manufacturing single-screw extrusion equipment, including the main extruder, water tank, hau-off, and cutting or collecting components. We have many years of experience in mold design and manufacturing, as well as partnering with other suppliers to offer customized equipment solutions to our customers.
Our mission is to provide the highest quality products and services to our customers, and we take that mission very seriously. We believe that our success is directly tied to the success of our customers, and we are committed to helping them achieve their goals by providing them with the best possible equipment and support.
When you're considering adding a new set of extrusion equipment to your factory
read our latest blog & article.
What is gravimetric dosing controller? The gravimetric dosing controller also called the gravimetric feeding system.…
1. Plastic Extrusion Definition Plastic extrusion is a widely used manufacturing process in the…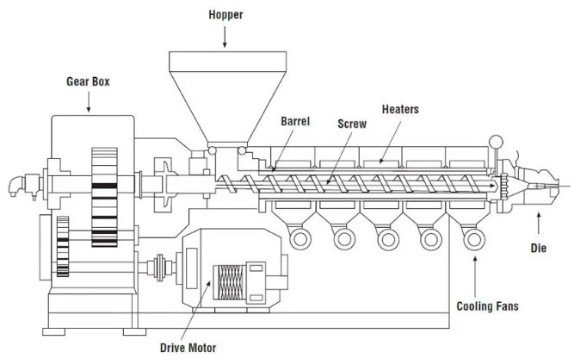 The working principle of single screw extruder, and the detailed components of the extruder.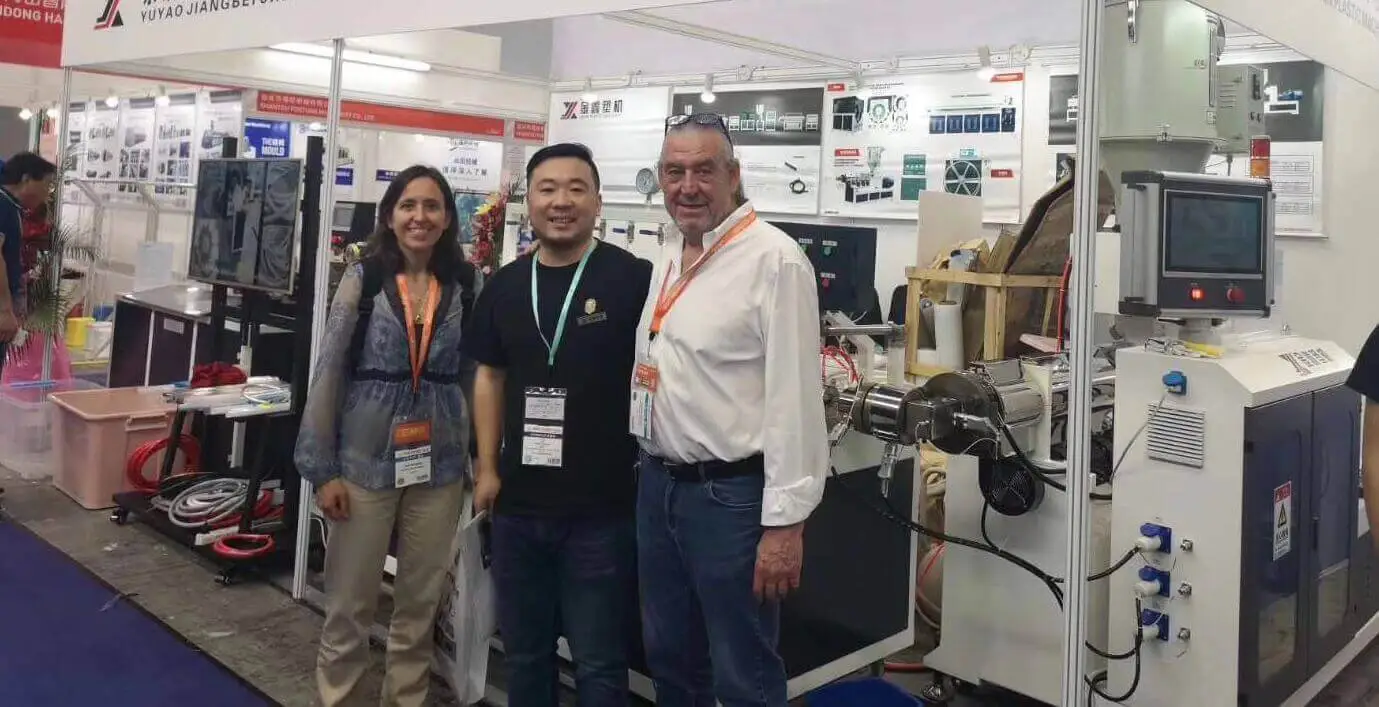 We are honest and reliable, providing cost-effective equipment for your factory
Our equipment is genuine, and every video or image you see is of our own products. We don't resell or rebrand machines sourced from elsewhere. Our product range may be limited, but it's built on trust.
We may offer a limited product range, but each item has been honed over the years, earning us a competitive edge. Most of our customers come to us based on our strong reputation.
We prioritize investing our resources and effort into product quality rather than flashy facilities. While our factory and office spaces may not be extravagant, we never compromise on the quality of our machines. We'd rather enhance the rust-resistant paint on machine frames than spend that money on office decorations.
We purchased the PVC reinforced braided pipe production line and our products have been validated by Samsung. We have successfully become a supplier of inlet pipes for Samsung washing machines.
Mr. Park
We collaborated with JINXIN to develop equipment for the production of marker pen tips. From concept to reality, we successfully operated four production lines within a year. The product has been well-received by customers worldwide.
Mr. Stone
The equipment we purchased is used to produce belts and strips of thermoplastic elastomers, such as tourniquets and bandages. The follow-up service regarding equipment maintenance and improvements is responsive. Communication and contact are available at any time.
Mr. Wong
We are the world's largest OEM factory for pre-water purifiers, and we highly appreciate the production efficiency, precise extrusion of pipes, and stability of Jinxin extrusion machines.
Mr. Chen
We are the largest exporter of laboratory pipettes in China. Previously, we used Italian brand extruders to produce PS pipettes. However, after switching to Jinxin extruders, we discovered that the transparency and smoothness of the extruded tubing were even better than the Italian brand. As a result, we replaced all the equipment in our workshop.
Mr. Li
we will answer your inquiry within 24hrs via Emails with the suffix jfextruder.com.
We are always ready for all your needs.
If you have specific plastic product requirements in mind or questions about adding new equipment, don't hesitate to reach out to us. Your needs and inquiries are our top priority. Contact us today to discuss how we can tailor our solutions to meet your unique goals